Klaudia: 10 kg weight loss in 2 monhts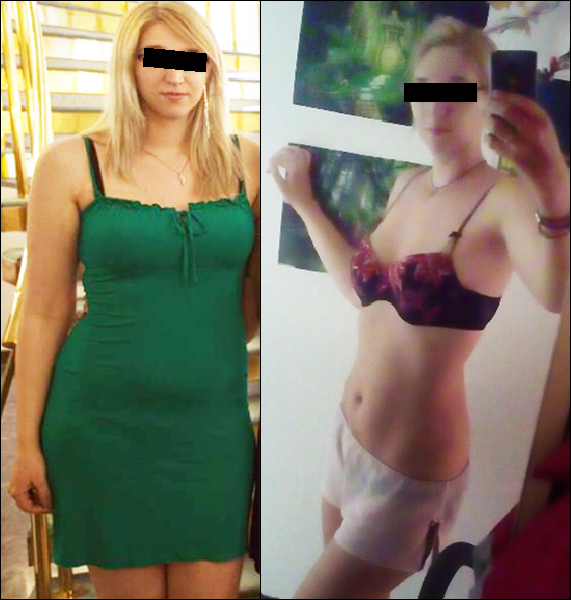 Hi, I'm Klaudia. I have two children, the smaller one is 10 months old. I was 95 kilos since I was born (182 cm tall). I was breastfeeding the baby until I was half-year old, so I had to find a healthy, healthy way to lose weight. I have not achieved spectacular results in half a year, as shown in the picture ...: D (because I refused to hold my "bloated" image, I can only serve them).
The green dress "before" was taken in May at a wedding. After seeing it, I was terribly outraged, then I faced just what I really was looking for. That's when I started using CalorieBase and started swimming regularly (3-4 times a week for 1 hour), but not just so, but on a physiotherapy (it was good for my spinal cord). I used a kind of thermogenic weight loss (picking) next to it. Overall I fell to 78 pounds in two months, and I was in the middle (finally), thanks to swimming.
CalorieBase has helped a lot because I know what I eat, how good it is for me, and if I'm "cheated", I can correct it. Before I thought the spinach cushion was a kingdom because it was small and vegetables. I already know that about one-quarter of my daily frame is calories plus fat. It all says I've interpreted "healthy foods" before CalorieBase. : D Overall, I try to keep myself in my frame if I miss one day, I try to correct it the next day. It's best not to torture, to dig up, to change a lifestyle and to eat more consciously.
How was she feeling? I wanted to lose weight, so I simply decided I would not go down until I could. I still have not done it (73 pounds is my dream weight for me), but I'm just beginning to like myself. This is largely thanks to the site, THANK YOU !!!